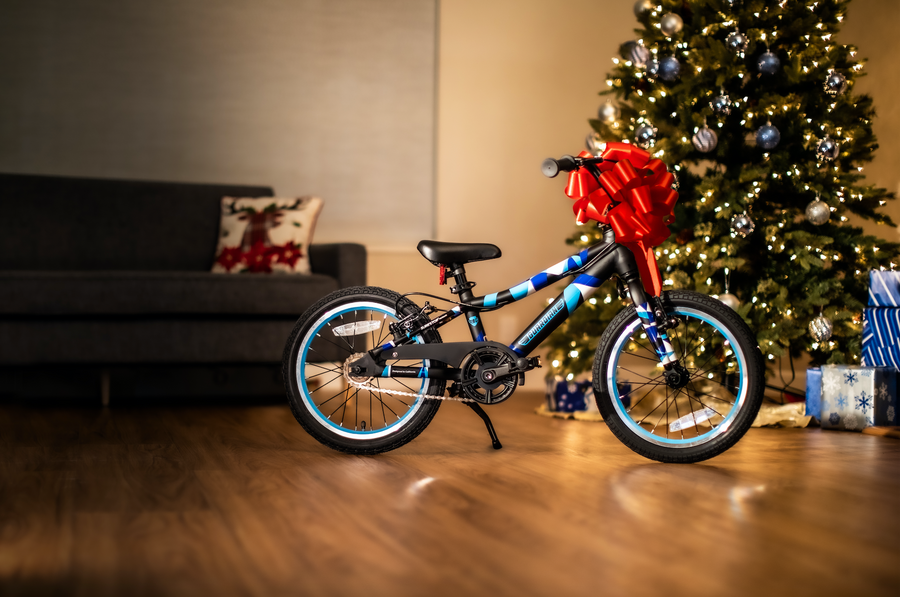 Christmas Gifts That Your Kids Will Use Year-Round
Have you ever purchased a toy for your little one that you thought was an awesome Christmas gift, just to find it forgotten on your child's playroom floor by January? Too often, especially around the holidays, companies market toys and games that simply aren't designed to last.
Typically, Googling "best Xmas gift ideas for kids" or "perfect Christmas gifts for kids" can lead you down a rabbit hole of trendy items that won't stand the test of time. That's why we've compiled this list of Christmas gift ideas for kids that they can use year-round. That way, you can invest in presents that will have a lasting impact.
Athletic Equipment
Summer isn't the only time kids want to be active. Here are some of the best Christmas gifts for kids who love sports.
1. Tabletop Ping-Pong Set
All the fun of ping-pong without the hassle of fitting a whole new table in your home. Also known as table tennis, tabletop ping-pong sets can go directly on top of your dining room table. They're simple to set up and store away, affordable, and conveniently provide fun for years to come.
2. A Bicycle
Kids bikes are some of the most rewarding Christmas gifts because they give children independence, help build confidence and keep them active, and are just sheer fun! Kids naturally want to follow the beat of their own drum, and bikes allow them to pave their own path to adventure. Gifting your child a bike is a great way to help them feel capable and free.
Check out our kids bikes and use our bike sizing guide to find their perfect fit.
If you're wondering how to wrap a bike and put it under the Christmas tree to surprise your child, we've got you covered.
3. Over-The-Door Basketball Hoop
Your child might be a miniature Michael Jordan—dribbling throughout your home and shooting hoops in the park—but how are they supposed to play in late December, or on rainy summer days? An over-the-door basketball hoop lets your little all-stars play any time!
Gifts for Artistic Kids
Do you have a crafty kid who would rather get colored pencils than a big stuffed animal? MaArt is instinctive to kids—the foundation of art, after all, is play! Help your child play and express themselves creatively with these artsy Christmas gift ideas:

1. Musical Instrument
From the "ABC's" to "Hot-Cross Buns," music and childhood go hand-in-hand. Plus, learning a new instrument can benefit your little one's brain! According to Time magazine, children who learn a musical instrument can experience unique brain development that may lead to academic improvements.
Music isn't all about focus and study, though. There are all sorts of fun ways to introduce a musical instrument to your child. From colorful xylophones and recorders for toddlers, to kid-friendly keyboards and miniature guitars for elementary-age children, musical instruments of all types are perfect gifts for under your Christmas tree.
2. Color-In Pajamas
It can be a struggle to keep kids from getting their clothes a little messy. Color-in pajamas turn that problem into a present. Color-in pajamas are a fun craft idea that allows children to design their own comfy outfit exactly how they want to. Give your child the power to create designer pjs for the runway—the sleepy runway—with color-in pajamas!
3. Chalkboard Wall
Like color-in pajamas, a chalkboard wall gives your child a healthy outlet for creativity, and it's also a fun way to break the "no drawing on the wall" rule.
The best part is, you don't actually need to purchase a wall-sized chalkboard. Instead, you can buy a can of chalkboard paint. Then, simply paint over a wall in your child's bedroom. After the paint dries thoroughly, the wall will be coated in a chalkboard-like material that can be written or drawn on, and erased.
The chalkboard wall allows your child to redesign their room daily, however they choose. Plus, you can leave your child little love notes to wake up to every morning.
Gadgets and Gear
Is your child a burgeoning tech whiz? Then these gifts would be perfect for your gadget-loving child.
1. Telescope
For the aspiring scientist and star-gazer, a telescope is a gift that keeps on giving. Depending on the time of year, children can have fun locating planets like Mars and Venus, seeing the rings of Saturn, or getting a close-up view of the moon in amazing detail. Plus, there are tons of beginner telescopes that don't sacrifice quality for affordability.
2. Film Camera
Even though we're living in the digital world, kids still crave tactile and interactive experiences. Film cameras combine technology and creativity in a special way that digital cameras just can't replicate.
For younger children, an instant film camera with a point-and-shoot approach may be best. These cameras allow kids to snap a picture and hang it up on the fridge moments later.
For older, more adventurous children, an SLR film camera with more bells and whistles produces high-quality photos that might kickstart a lifelong hobby.
3. Kid-Friendly Headphones
Kid-friendly headphones come in fun colors and styles while still being functional. Flimsy headphones are always in danger of breaking, and they're not very comfortable or, quite frankly, cool. A sturdy pair of headphones decorated in fun colors or themes are a great value and a functional gift.
Gifts to Help With Learning
These gifts combine play with learning so your child can grow year-round.
1. Journal or Diary
A unique and colorful journal can feel like a special gift for kids. It's a place they can tell their story, explore their imaginations, and remember important moments. Plus, there are plenty of benefits to keeping a journal.
According to Scholastic, these benefits include:
Helping your child process new experiences

Allowing your child to communicate feelings

Practicing writing and penmanship skills without grades
You can even sweeten up the gift with colorful sparkly gel pens, stickers, and bookmarks.
2. Book Club Subscription
If your child is a bookworm, a new book on Christmas morning is a good gift idea. What's an even better gift? A new book on Christmas morning plus another new book in the mail every month after that!
Book club subscription services are a fantastic way to introduce a steady stream of new books into your child's library. Many subscription services will specifically curate books based on your child's age, interests, and needs helping you avoid all of the research and shopping yourself.
Gifts for Young Children
Your young child learns so much every day, including who they are and what they like. It's not easy choosing gifts for children who may not know exactly what they like yet. Here are some great Christmas ideas for younger children:
1. Play Tent
Kids love to build their own little worlds, and exercising imagination is an important aspect of early childhood development. In your child's eyes, a play tent isn't just a play tent. Play tents give kids their own space away from daily life, so they can go wherever their dreams take them. It can be a pirate hideaway, a majestic castle, or even a spaceship!
2. Homemade Slime Kit
Gooey and colorful, simple, and safe, homemade slime kits are miniature science projects you can do right at your kitchen table. They provide a fun activity for the family, and at the end of the science experiment, your children can play with their gooey creations to their hearts' content.
3. Lego Sets
A tried and true classic, Lego sets are a smart gift idea for parents who are wary of excessive screen time. You can find a Lego set from one of your child's favorite movies, books, or video games. There are also plenty of classic Lego options to choose from, such as animal and vehicle sets.
What Makes a Christmas Gift Great?
As the old saying goes, it's the thought that counts. Here are some good questions to ask yourself before you go shopping for your child's gift:
What are their interests?

Is this gift something they

want

or something they

need

?

Will this item still be relevant in six months? In a year?
When shopping for children, the best Christmas gifts are those that can help little ones learn more about their interests and make memories! After all, kids are always discovering new hobbies and new tastes. That's why a gift that helps kids discover what they like is the best kind of gift, offering kids the freedom to be who they truly are.