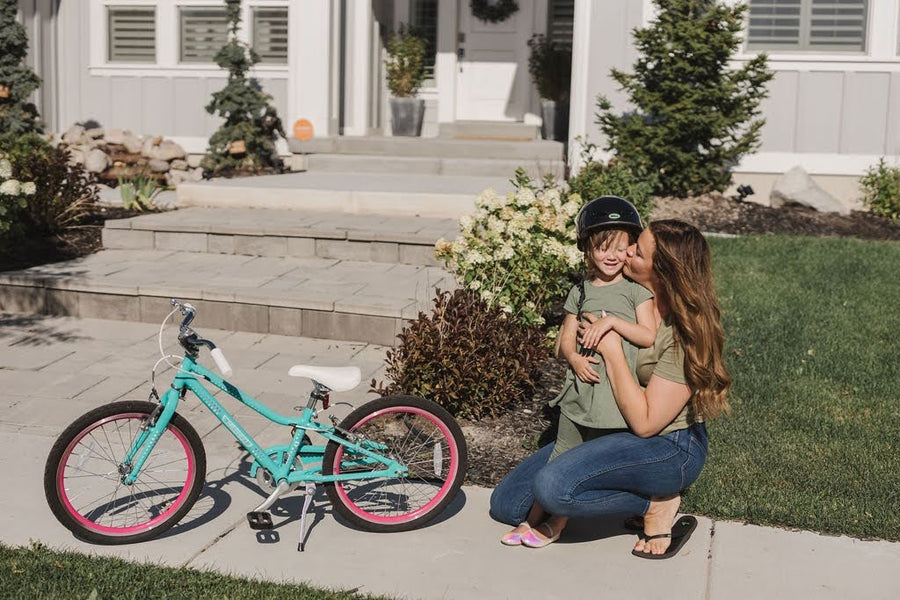 Why Kids Shouldn't Use Training Wheels
Riding a bike with training wheels has long been thought of as the prerequisite to riding a pedal bike. However, learning with training wheels actually teaches the fundamentals of biking in the wrong order. Because training wheels keep the bike upright, kids aren't learning about balance — which is critical to their safety on pedal bikes.
When kids do make the transition, they're forced into learning how to balance and maintain control at the same time.
Thankfully, there's a better option available that softens the transition: balance bikes.
What is a balance bike, and why should it be your child's first bike?
A New Era of Young Riders: The Balance Bike
A balance bike looks like a bike without pedals. The seat and frame sit low to the ground so kids as young as 18 months to 2 years old can start practicing on them. Without pedals, children kick off the ground to gain momentum and then lift their feet up to cruise. When they balance, they can easily drop their feet right back down, allowing them to gain confidence at their own pace.
Skills Learned on a Balance Bike
Balance bikes are becoming more and more popular in the biking industry, because the transition to a pedal bike is much easier.
Learning to balance is one of the hardest skills a child learns when riding a bike. It's also the most important skill for preventing tumbles and falls. A balance bike teaches this from the beginning, instead of leaving it to the very end like training wheels.
Once a child has learned to balance, adding pedals into the mix is a piece of cake.
Are Training Wheels a Good Idea Ever? Or Should Parents Avoid Buying Them?
In short, parents should avoid using training wheels on their child's bike at all costs.
One misunderstanding about balance bikes vs. training wheels is that "training wheels are just a different way to learn." Really, that's not entirely accurate. At the very least, it's a misleading statement.
Balance bikes offer a safer, more intuitive way to learn.
To see how, let's look at the skills needed for biking:
Balancing

Steering

Braking

Pedaling
Balancing: Training Wheels vs. Balance Bikes
Have you ever watched a young kid first learn how to ride? If you haven't, take a look through some YouTube videos of early riders. Notice when they first start to pick their feet up and place them on the pedals, the bike gets really wobbly.
Balancing on a bike is difficult. It takes a lot of overcorrection on a kid's part to get it right. This over-correction mechanism, however, is a crucial step in the process.
Training wheels prevent kids from learning this step by catching any wobble before the child has a chance to correct it by themself. Balance bikes, on the other hand, present these wobbles at a kid's own speed. If the child gets nervous, they simply place their foot on the ground.
Steering: Training Wheels vs. Balance Bikes
This one might seem contentious — you can steer with training wheels, right? Sort of.
Think of a sharp right or left turn in your mind. Nevermind the geometric physics and centrifugal force at play, just consider how it feels. On a bike, you turn the handlebars and lean into the turn to avoid being flung off the opposite side. With training wheels, all a child needs to do is turn the handlebars and hang on. A training wheel bike (similar to a tricycle) is supposed to keep your child upright and ensure the bike doesn't tip over. At least in theory…
In practice, sharp turns tend to tip the bike over, giving children a false sense of security.
While some kids may naturally grasp the turning motion with training wheels, balance bikes allow all children to learn it intuitively.
Braking: Training Wheels vs. Balance Bikes
Learning how to brake can be difficult for young riders. Unfortunately, most bikes with training wheels also come with coaster brakes, which come with significant disadvantages. Coaster brakes:
Only use the rear brake

– Because coaster brakes only engage the rear brake, this causes long stopping distances. Additionally, if the back tire locks while braking, the child can experience dangerous fishtailing and swerving.
Create a poor learning environment

– When children are nervous and learning how to balance, they'll often backpedal as a natural instinct. With coaster brakes, this engages the brake, causing unexpected stops and loss of progress.
The best option is to find a balance bike with a hand brake. This grants them a safer, more rewarding environment to learn how to ride a bike. When looking for the right hand brake, make sure the lever is reachable for the child and that the lever can be compressed easily.
Pedaling: Training Wheels vs. Balance Bikes
Training wheels do help children learn how to pedal before balance bikes. However, pedaling is what allows children to ride faster; balance is what allows children to ride safer. By waiting to learn pedaling after they've already mastered balancing, steering, and braking, you can be sure your child is safe when they're pedaling.
Learning How to Ride a Bike Without Training Wheels
Balance bikes present a safer option that puts the control into kids hands. This is why we highly recommend parents offer a balance bike for their child instead of training wheels.
If you're not convinced, check out how easy it is to learn to ride a bike without training wheels.
Guardian Bikes: Offering a More Intuitive Approach to Kids' Bikes
Guardian Bikes offers lightweight, easy-to-control bikes with pedals that come uninstalled, allowing the balance bike method to be used for new riders. That way, kids gain an intuitive approach to learning to ride a bike, and once they've mastered balance, the pedals can be quickly installed. This allows the transition to a pedal bike to be done in just one afternoon.
With our patented SureStop brakes, you don't have to worry about your child having skidding troubles or head-over-handlebar accidents that come with traditional two-hand brake braking systems. We also offer our patented sizing tool to ensure your child has a bike that matches their height and biking ability.
If you couldn't already tell—we're on a mission to create the safest bikes for kids.