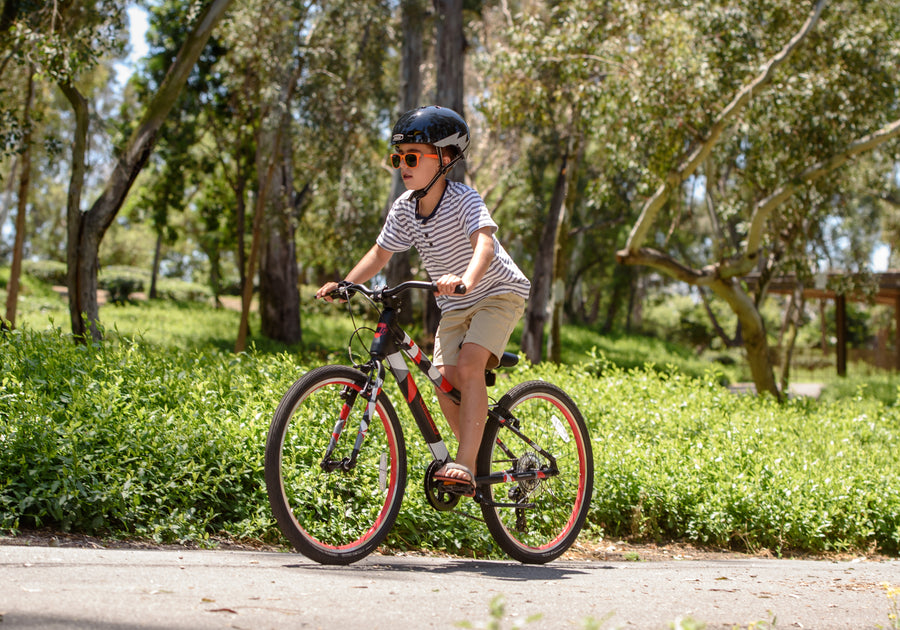 How To Determine Bike Seat Height For Kids
Getting your child's bike seat at the right height can change their riding experience. A comfortable bike seat height makes cycling safe, comfortable, and fun for your kid.
Our goal is to help you better understand all the basics of kids bike sizes.
How to Measure Seat Height Properly:
Step 1: Set a Baseline Seat Height
Before your little rider hops on the bike saddle, you'll need to figure out a baseline seat height. To do so, first measure your child's inseam.

The inseam is essentially the length of your child's inner leg. Here's how to effectively measure inseam for proper bike seat height:
Have your child stand with their feet about shoulder-width apart.





Using your measuring tape, the top of their inseam to the bottom of the ankle.
Now that you have the inseam measurement, you can establish a baseline saddle height. This will change based on your child's bike. Here's the rough guideline to get started:

Balance Bike:

About 1-1.5" inches

below

the inseam.




First Pedal Bike:

For your child's first pedal bike, the seat should be the same as your child's inseam.




2nd Pedal Bike and Beyond:

As your child masters their bike, their bike seat should be between 2" to 4" inches

higher

than the inseam.
Step 2: Hop-On
Have your young rider hop onto their bike saddle while you hold the handlebars firmly. If there's a kickstand, you can put that down for extra safety. Now have your child place their feet on the ground while sitting on the bike as normal.
Step 3: Check the Seat by Checking
the Feet
Take a look at the positioning of your child's feet. Since different bikes require different feet-action, use the guide below to gauge whether the seat needs raising or lowering.
Balance Bike:

Because your child will be pushing the bike around with their feet, those feet should be

flat, with their knees bent at about a 100-130

°

angle

. This gives them room to run with the bike or comfortably lift up their feet while they're coasting.




First Pedal Bike:

Going from a balance bike to a pedal bike is an exciting transition - but it can be a bit intimidating at first. Being able to touch the ground easily will boost your child's confidence as they take on pedaling. For this reason,

make sure your child's feet are flat on the ground, with a slight bend in the knees.

You don't want your child's knees bent so sharply that they're hitting the handlebars.





If your child's heel is slightly lifted off the ground, lower the seat. If your child's knees are noticeably bent, add height to the seat.




Second Pedal Bike and Beyond:

For your child's second pedal bike (and every bike after that),

they should be on their tip-toes with a 20

°

slight bend in the knees

.




If there's almost no space between your child's heel and the ground, raise the saddle position up a bit. If your child can barely get their big toe to touch the ground, lower a bit for an optimal riding position.
Make small seat height adjustments until your child is sitting comfortably and confidently. You might even want to let them do a few test rides to see the difference in a proper bike seat height.
What to Know About Kids Bike Sizes
Mass-market bikes don't factor in the unique geometry or sizing of the frame, meaning it's much harder to find the perfect fit for your child. Although two bikes from the same manufacturer may be classified as the same size, they may fit
completely
differently on your child.
So the question "How high do I determine the correct bike seat height?" really becomes "How do I find a bike that is the right size for my child?" The answer is Guardian Bikes.
Finding the Perfect Fit with Guardian Bikes
For years, we have set out to create a safer bike - and that starts with our patented RideSizer® tool. You can also enjoy peace of mind with our patented SureStop brake system. Meanwhile, kids can enjoy the kid-designed styles and patterns of our lightweight bikes.