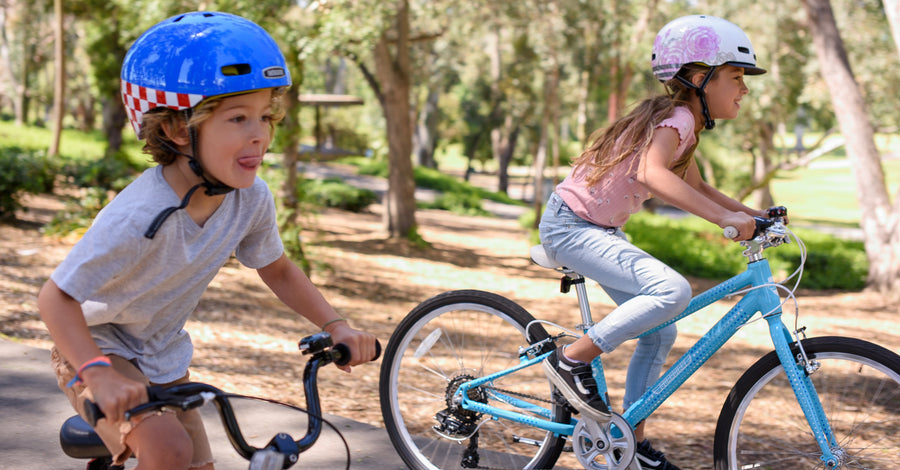 Summer Games For Kids While Riding a Bike
On long summer days, kids love hopping on their bikes and pedaling around in the sunshine for some outdoor fun. As summer comes to a close the team at Guardian Bikes came up with a few bicycle games to make things interesting!
There are endless bicycle games you can play right in the driveway or your local park. All you need is a bicycle, of course, and a few things lying around the house or garage (think sidewalk chalk, buckets, and paint cans) to have a blast while building confidence. Create an outdoor game that takes 15 minutes, or fill the entire weekend with a bicycle Olympics.
Must-haves for bicycle games
Bicycle games are some of the easiest summer activities you can coordinate for your younger kids. To get started, you just need two crucial things:


Helmets

: Protect your kids (and yourself!) by wearing a

helmet

at all times.
Correctly sized bicycles

: If your little one's bike is too large or too small, they're more likely to lose their balance. Did you know that selecting a bike by wheel size isn't the best way to find your child's perfect fit? Visit our

sizing page

to learn more!
From there, use whatever supplies are handy to get creative with the following 7 bicycle games.

1. Create your own obstacle course
It's easy to make an obstacle course with household supplies. Draw "obstacles" with sidewalk chalk, or use items like traffic cones or cans to create a squiggly, circuitous path. Include any or all of the following:
Directions (right turn, left turn) written in sidewalk chalk

Stop signs

Physical obstacles (cardboard box, cans, etc.)


Here are a few of our favorite classics:
Go Slow Game

– Challenge your kids to ride along wacky chalk-art lines on the pavement—without putting their foot down. The kid with the

slowest

time wins!

Race Track

– Draw side-by-side tracks out of chalk for a friendly race between the kiddos.

Penny Obstacle Course

– Place empty cans, jars, or cones around the pavement and hand each of your children as many pennies as they can hold. Challenge them to drop a penny in each container. Use chalk to layout their path. This will work up a sweat and help them improve their handling and braking skills on the bike.
Your obstacle course can be as simple or as elaborate as you want, based on your supplies on hand. This is also a great opportunity to teach kids the hand signals for turns.


2. Red Light, Green Light
Adapt this popular playground game for the bicycle. Have an adult act as the traffic controller.
With your back turned to the kids, yell out "green light" so they can start biking towards you.

Face back to them to give the "red light" and require all riders to come to a stop.

The winner is the first person to make it past the traffic controller.

If a rider doesn't stop quickly enough, they have to back up three big steps!
This is a great exercise in improving reaction time and braking skills. To ensure safety while participating in this fun outdoor game, make sure your kids are equipped with Guardian Bikes' SureStop brakes.


3. How slow can you go?
Challenge riders to get from point A to B as slowly as possible without putting their feet on the ground. This summer game is a blast, and it helps kids improve their balance quickly.
To make it competitive, see who can get the longest time. Or make it cooperative and challenge your kids to get the largest-possible combined time.


4. Balance beam and zig-zag challenges
Use a piece of chalk to draw a balance beam or zig-zag line on your driveway. See if your younger kids can ride from one end to the other without straying from the line. This fun game can challenge even older kids since you can make the "beam" as narrow as you like! It's an incredibly engaging way for kids to improve balance and handling on their bikes.


5. Scavenger hunt
You can also take the fun outdoor activities into your backyard or all over the neighborhood with a bicycle scavenger hunt. Create a treasure map and have riders collect (or simply spot) objects and clues at each location. Be sure an adult rider can supervise little ones on their treasure hunt travels!
Plug into popular games
You don't necessarily need to go through the effort of creating your own treasure map. Instead, take advantage of existing summer games that will have you pedaling around town. Popular options include:
Pokémon Go:

Take your whole family on a treasure hunt with this popular mobile app.

Minecraft Earth:

Bike to popular places and see other people's Minecraft creations.

Geocaching: There may be hidden treasures right in your neighborhood - go on a hunt!


6. Create a custom triathlon
Incorporate a bicycle obstacle course or balance beam challenge into a longer relay race. Other physical activity yard game stations to incorporate:
Hula hooping (keep the hula hoop up for 1-5 minutes)

Running

Jumping rope

Playing cornhole
If you have a pool, there could even be a swimming component. The possibilities for outdoor fun are endless!

7. Bicycle Olympics
Do your kids love competition? Combine several of the traditional game ideas above into a bicycle Olympics and create an entire day or weekend of fun, skill-building bicycle events for both your younger and older kids to participate in.
Assign each game a point value for 1st place, 2nd place, 3rd place, etc. At the end, award gold, silver, and bronze medals. If your kids are more cooperative in nature make it a collaborative challenge, where the goal is to get the highest combined score!

Summer's better on a bike
Of course, these suggestions are just a jumping-off point when it comes to planning kids activities that will ultimately keep them entertained. Get creative! The more involved they are in building the games, the more fun they'll have playing them. Pull out that jump rope, hula hoop, pool noodle, or beach ball and get ready for some summer fun! And of course, be sure your child has a safe bike that they truly love to ride. Check out Guardian Bikes and find their perfect fit.
Sources:
Geocaching. Geocaching. https://www.geocaching.com/play Accessed 11 June, 2020.